SpeakEasy & E-proofreading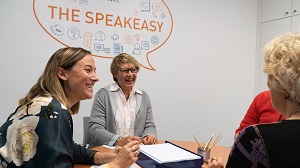 The Language Resource Center offers you linguistic activities to help you improve your English and French language skills.

SpeakEasy in English (Small Group)
SpeakEasy sessions are conducted in groups limited to 5 people, depending on the level. They are led by an English native speaker with whom you can talk about various subjects. You will receive help with grammar, vocabulary and expressions at the end of each session.
They are aimed at a public of different levels, from B1 to C2. The sessions take place in the SpeakEasy room (within the LRC) or on Zoom.

SpeakEasy in French (One-2-One)
30-minute conversations with Ms Patricia Biron, our French coach, who is eager to help you improve your speaking skills in French. You will be able to get a better accent, have your grammatical mistakes corrected, gain some useful daily life expressions, and become more confident in speaking French.
Interested? Send an email to Patricia (biron@hec.fr) now to get an online appointment with her!

e–Proofreading in French
A French proofreading service is offered by LRC to all HEC Paris international staff members who are looking for a way to improve their professional writing in French. Once you finish your documents, send them to your French coach Ms Patricia Biron and she will get back to you with corrections and/or suggestions within 7 working days. Please note that you might be asked for an individual appointment.
Interested? You can send your written documents directly to Patricia (biron@hec.fr).