Workshop: Diversity at work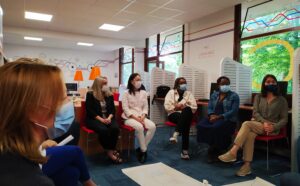 Where am I in my intercultural environment?
Following the recent Conference "Experiencing Interculturality at HEC", the HRD, the S&O Institute and the LRC organized an intercultural workshop moderated by Karen Roustan Delatour, aiming to:
Understand our differences and see them as the strength of our community rather than a source of discomfort
Remove tensions and stress related to the complexity of our intercultural environment and enable everyone to share their perspectives and feelings
Facilitate the sharing of experiences and develop intercultural skills
Integrate all members of the HEC community regardless of their cultures and facilitate their communication

The first workshop "Diversity at work: where am I in my intercultural environment ", held at the LRC on July 1st 2021, had a practical and concrete approach, and helped us:
Understand different cultures through the eight dimensions of Erin Meyer's "The Culture Map"
Place ourselves on the scale of different dimensions
Outline the wished cultural working environment
Become an actor of diversity & inclusion at HEC
>The second workshop is coming soon! Stay tuned!