E-Learning & Self-Training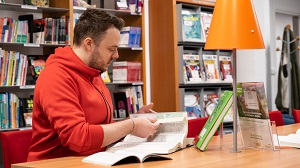 DESIGN YOUR LEARNING PATH USING THE LRC TOOLS
The Center offers many E-Learning & Self-Training tools which are available for you to learn or practice a variety of languages at your own pace.
The LRC staff is available to help you organize your work and advise you in choosing the most suitable resources to achieve your goals.
E-Learning platforms (PrepMyFuture, GlobalExam, GoFLUENT and more) which allow you to learn up to 14 languages (English/Chinese/Dutch/German/Italian/Portuguese/Russian/Spanish/Korean/Japanese/Turkish/arab/polish and French) at home.
Audiofiles for self-training
Language learning guides
Books and magazines in multiple languages (you can check the HEC Learning Center online catalogue)
Films and TV sets equipped with headsets
We are happy to welcome you at a cosy environment for you to work in the best conditions, or you can contact us via email for a free access and learn from home!