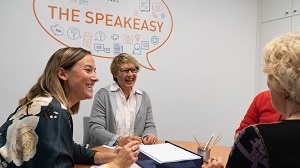 Speaking is the best way to improve your language skills, so do not miss this unique opportunity to talk with a native speaker on interesting topics.
The Language Resource Center offers SpeakEasy services in both English and French, to help you improve or maintain your language skills.

> One-2-One 30-minute conversations with our French coach Ms Patricia Biron.
> One-2-One 45-minute conversations with our English coach Sonia.
Interested in improving your speaking skills in other languages?
> Check out our One-2-One Language Exchange Program and find your perfect match!