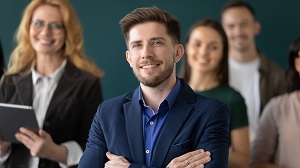 The LRC serves the staff members, offering access to up-to-date resources for language learning and skills improvement through guided self-study.
Le LRC apporte un soutien aux membres du personnel en leur offrant un accès à des ressources pour l'apprentissage des langues grâce à l'auto-apprentissage guidé.
Any staff member wishing to improve his/her language skills can benefit from the services of the LRC. You have a 40-hour credit you can spread freely during your working hours all throughout the year. This is framed into a personnel training plan managed by HR – Continuing Training.
Tout membre du personnel souhaitant améliorer ses compétences linguistiques peut bénéficier des services du LRC. Vous disposez d'un crédit de 40 heures que vous pouvez répartir librement pendant vos heures de travail tout au long de l'année. Ce forfait de 40 heures s'inscrit dans le cadre du développement des compétences mise en place par la DRH et le LRC.
We are on hand to help you organize your work and advise you in choosing appropriate resources for your needs.
Nous sommes à votre disposition pour vous aider à organiser votre travail et vous conseiller dans le choix des ressources adaptées à vos besoins.
Let's get started!
Commençons!
Step by step / Etape par etape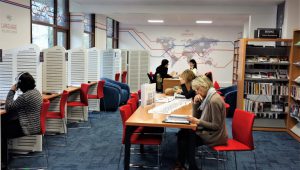 Do you want to learn a new language or improve your skills?
Voulez-vous apprendre une nouvelle langue ou bien améliorer vos compétences?
Step 1
Get your manager's and Olivia Giusti's approval to follow your 40-hour training program.
Obtenez la validation de votre programme d'entraînement par votre manager et par Olivia Giusti.
Step 2
Book an appointment with Vitty Feng-Tirlot to set up your learning path. Different combinations are possible according to your needs.
Réservez un RDV avec Vitty Feng-Tirlot pour définir votre parcours pédagogique. Selon vos besoins, plusieurs options sont possibles.
Step 3
Finalise your sign-up process and confirm your level with an initial placement test sent by Vitty at the end of the appointment. 
Et avant de commencer votre parcours, vous finirez votre inscription par un test de niveau, qui vous sera communiqué à la fin de l'entretien avec Vitty.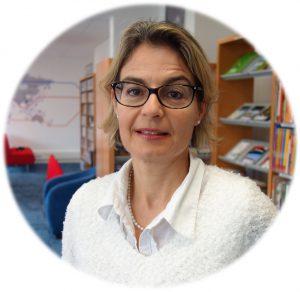 «I have been faithful to the Language Resource Center for several years and I have chosen to work with the Dynamic Programs that allow me to study at my own rhythm thanks to various themes such as everyday English, grammar, culture, etc. Above all, I love the flexibility and varied approach of the formula.
With no hesitation, I would recommend the center to my colleagues because it is an excellent way to improve language skills at the workplace. Thanks to frequent visits, I recently upgraded from intermediate level to advanced level.»
Sylvie B. (France), HEC Staff Member